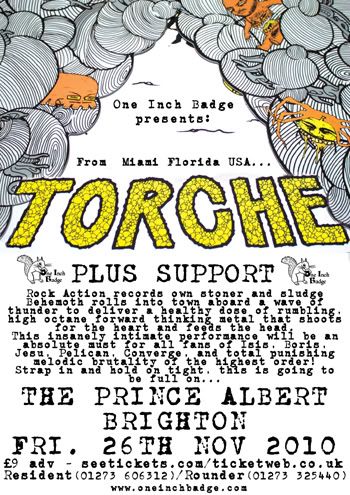 This Friday Brighton's Prince Albert hosts one of the heaviest gigs to the city will have seen for a long time as Florida's swampy sludge rockers
Torche
roll up and set about decimating amps and ears. Support comes from two of Brighton's, if not the UK's most absorbing downtuned bands; stoned doom wizards
Dopefight
, who
Lurker
described as
"without doubt a band whose potency lies in their uncanny ability to write some of the greatest sludge riffs I have ever heard."
and the crawl-tempoed trance inducing
Jovian
. Jovian are like some Brighton supergroup consisting of, but not limited to, people who do or have once played in bands such as End the Agony, Terminal Outputs, Cat on Form, Charlottefield, Plague Sermon, Falling Boy and Davidd Winter.
Here's some clips to get you in the mood.
Torche - Healer
Dopefight - Babygoatsick
Jovian - Live @ The Cowley Club