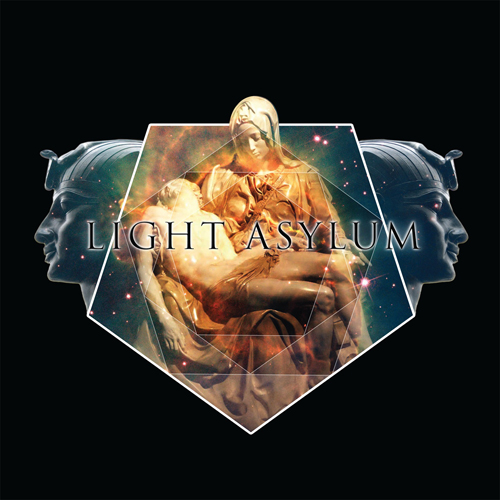 Finally, a new release!
Shallow Tears
is the lead 12" single from
Light Asylum
's long-awaited, highly anticipated self-titled debut album, due out in May on Mexican Summer. The two-track single comes on suitably fetishistic limited edition white vinyl.
Dancing over the grave of the not-even-dead-yet Grace Jones, with a vocal comparisons all too apparent to avoid a reference, Shannon Funchess and Bruno Coviello return with another visceral tear-streaked symphony to emotion-haunted back alleys and dry-ice cloaked dancefloors. It starts with a peal of thunder,as dramatic an entrance as they could make, then the drums start pounding. This music is something else out there on its own. Even without Funchess' remarkable intonations there's enough resonant affect being squeezed out of the synths that each time she really opens up her lungs it reaches right into your chest and crushes your heart. A less coked-up Cold Cave in introspective sensitive mode, Shallow Tears rolls forward in stately fashion, blowing up into alternating surges of drum crescendos and vocal multitracking that freezes time and blows out way before your ready for the affair to be over.

The B-side, Genesis, is far more restrained, with a creeping paranoid melody line picking its way over a jittery drum track that slowly slides into a silvery vocodered vocal climax. A little bit HTRK, but again, an entity all of itself. It's the perfect foil to the grander A-side, a flawless 12" dropping a twin assault deep into your sensual perception, and the ultimate teaser to the10 track album, due out soon.
Order now from
Mexican Summer
.
<iframe width="100%" height="450" scrolling="no" frameborder="no" src="http://w.soundcloud.com/player/?url=http%3A%2F%2Fapi.soundcloud.com%2Fplaylists%2F1619447&show_artwork=true">iframe>