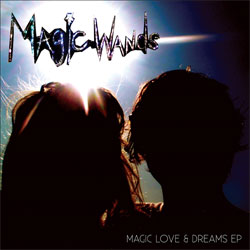 Magic Wands
Magic Love & Dreams
Bright Antenna
Magic, Love & Dreams is the new EP from LA duo Magic Wands and it's another addition to this shoegaze revival scene thing that's supposed to be going on, but this one comes in at a different angle to bands like Pains of Being Pure, Cheval Sombre, M83, Dreamtiger, Crocodiles and Inverness - not that any of those are too similar to each other, but they are all tied together with a lot of delay, reverb, echo and a sense of nostalgia. There's not enough Ride or Slowdive in any of this to call it a Shoegaze revival so I don't really know what's happening out there in musicmedialand to make it so***, but it's all fairly dreamy and pretty or fey and twee to different extents.
Anyway, point is; Magic Wands bring the beats.
Recorded at the studio of producer John Hill (who has worked with Santogold, Lykke Li and Nas) this was creating with the same drum machine used on Prince's Purple Rain. I have the same model drum machine The Shamen used to record Boss Drum, but not
the
same machine. That would be too much. But Prince's old beatbox isn't here making super sexy satin staining sounds, although it is pretty sexy, smoothly rounded, deep and bassy in all the right places it's primary purpose here is in adding a pulse and groove to a sound of cosmic dream-pop going super nova.
Teenage Love
features walls of white noise guitars with a proper dancefloor bent to the rhythm and hooks - so much so that the melody line sounds like the sister to a CSS song - a coincidence or anything more...sinister...will be revealed when they support CSS in October in the UK. Sound clash!! Final track
Kiss Me Dead
brings some of the aforementioned sass to a lyrically gothic hook and ends off the EP with a sense of humour as dark as the fabric of the universe whilst remaining as light as the brightest star hanging from it. As overwhelming as that sounds, the track that stands out the furthest and fulfils their aims of a supermassive twinkling sonic tapestry is
Starships
. Inspired by the Phoenix lights it's a heavy lidded hypnotic skyscraper of a tune – and we present it here for you so you get sucked into this band instantly, irretrievably, black hole style:
Magic Wands - Starships

***, no wait - I do know why - it's because Siltbreeze and Slumberland who were putting it out first time round are active in this wave too